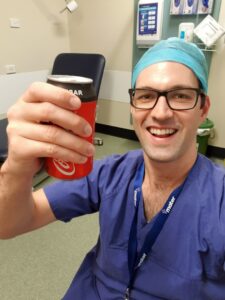 Q&A with Dr Andrew Haymet, Vascular Surgical Registrar & PhD Candidate at University of Queensland/Critical Care Research Group, with support from The Common Good
"The thing about cycling is it's unique because it's one of those things you can do as fast or as slow as you like – short of falling off, you can use it to unwind, you can cruise along all the way up to absolutely hammering yourself and everything in between. I can't really think of any other sport or activity that's like that, which I think is what makes it so special."
How is your training going for the TDB?
My training is variable! Working in a surgical job it's a bit unpredictable at times but I've found the indoor trainer is a good friend of mine. You can get on and be done anywhere from 30-90 minutes and it still keeps you in pretty good shape. I also have a few mates here at work who are pretty keen cyclists as well, so some days we meet at 4:45am to do a loop before work. Having another person to keep you accountable can be really handy.
I also have a Tacx Neo Bluetooth trainer, and I use Zwift to give me lots of courses to choose from. The smart trainer knows how to hurt you, and there's no escape, but I've found if you live a busy life it's a good way to fit your training in and still do things like Tour de Brisbane.
What part of the 110km course are you most worried about? 
That's a good question. Coo-tha on its own is enough of a challenge; Coo-tha at the end of a long bike ride like this is that much harder! The mornings when I've found a reason not to ride my bike will catch up with me at that point on the ride. I think that the biggest challenge will to be pace myself, once I get to 70 or 80km and have to do Coo-tha that's when I'll have to really dig deep.
What part of the 110km course are you really looking forward to?
The start is always awesome because you can feel everyone's anticipation and excitement, you know what's ahead of you, you've got all the adrenaline flowing. And then equally, at the finish line there's something about getting off the bike and having some fun with your mates at the end, and maybe having a drink knowing you've done a good honest hard set of work.
Where are your favourite places to ride? 
Around Brisbane, Coo-tha is always just a sneaky little bit of punishment for days when you're feeling a bit stronger, it's just a good honest yardstick for Brisbane cyclists. Otherwise I've found the river loop is simple, but a great way to start the day. There's something about crossing the bridge and seeing the river first thing in the morning, super placid, with the sun coming up – always puts me in a good mood. It's the alarm going off that's the hardest part, but once you're out there you feel a million bucks!
My favourite Zwift course is a British circuit around Buckingham Palace and the streets of London. Having been over there it reminds me of one of the epic triathlon finishes between the Brownlee brothers – I'm nowhere near as quick as them though!
How is fundraising going? 
Pretty good! I've had a few mates get around it once I've told them what we are doing, and they've backed not only the fact that we're riding for a great cause but also from the research side as well. Some of them are researchers too, so they have that perspective as well. I'm still campaigning, we've got a month to go so it's full gas with drumming up support!
Why are you fundraising for this particular cause?
I think that some causes are less visible than others, and that is also reflected when it comes to medical research. Events like this re-focus attention to people living with chronic, life-altering illnesses, the impacts of which may not be easily understood, and the difference that the research community can make. This event is an opportunity to shine a spotlight on that. An event like TDB is unique in that a much larger range of people of all different ages and walks of life can get involved.
About Andrew's Research
My work looks at blood vessels, and more specifically, how the lining of blood vessels becomes damaged across a range of conditions. In particular, I am studying how that lining changes during states that are not natural, such as various forms of cardiovascular surgery and artificial forms of heart and lung support – and what this means for treatment we offer, and how we can improve them.