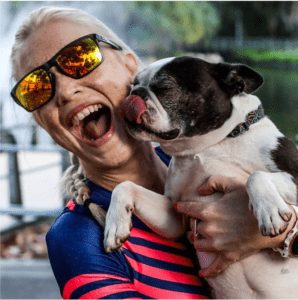 Q&A with Kate Phillips, heart and double lung transplant recipient and 110km Tour de Brisbane rider as part of team Porky's Pedallers.
Which distance are you doing? Our team 'Porky's Pedallers' is doing the 110km.
Who do you train with or do you prefer to ride solo? 
I personally train mostly indoors (mainly because I do not always feel safe on the roads and to fit in training around work, I find this works best). But we have also done some weekend training rides as a team.  
What are you most excited for during the ride and the Festival weekend? 
We are excited to finally see the event take place and to see The Common Good benefit from the fundraising efforts that everyone has carried out over the past year and a half. While it was disappointing  having the event postponed twice due to COVID, it has also allowed us to continue to build on our initial goal.
Why do you love to ride? 
Riding is such a wonderful way to keep fit, and is a great way to explore local areas on two wheels.
For someone who may not have done an event like this before, what's your top tip pre-event?
I am always a ball of anxiety before any event, so probably not the best person to ask. But preparation is key. Make sure you have all your gear ready the night before. Don't try anything new on the day (whether it be nutrition, new shoes or even a new kit). And just try your best to enjoy the day ahead. It can be really overwhelming at the start line, but just stick with your team and ride your own race.  
Why are you fundraising, and how is it going?
'Porky's Pedallers' are fundraising for a cause that is close to our hearts. Our team member Kate was extremely fortunate to have received a Heart and Double Lung Transplant after years of declining health. This transplant not only saved her life, but absolutely transformed it, and has allowed her to achieve more than she ever thought possible.
Unfortunately, transplants aren't forever, and while they are a miracle of modern medicine, recipients face a number of complications post transplant. The researchers at The Prince Charles Hospital are at the forefront of this and are currently working on new and innovative ways to identify and treat these issues. 
So that is why we are riding! With all funds raised through our Tour de Brisbane ride going directly to supporting this work, it will give more people like Kate the hope they need. 
Right now Porky's Pedallers have raised over $8,500 and are striving to reach $10,000 by July 11. We are blown away by the support we have received, but most of all, are so excited to be able to give back to The Common Good and The Prince Charles Hospital.