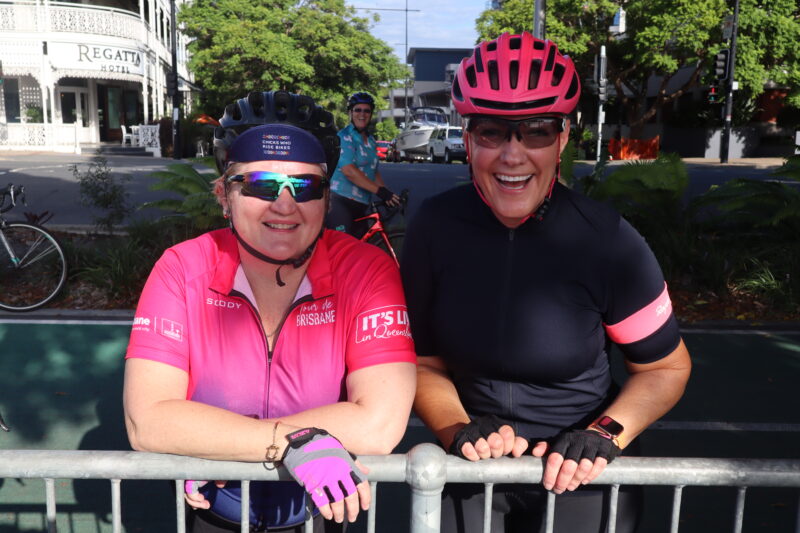 With over 6,500 riders registered, the Brisbane cycling community is coming out in droves to ride their bikes on fully closed roads in the Tour de Brisbane partnered with Splatt Lawyers on Sunday 11 July. 
Joining the start line are the Brisbane Chicks Who Ride Bikes, an all-female group of bike riders who hold group rides across the City, targeted at beginners or those nervous about road cycling. 
"Our chicks have been training hard for the 30km and 75km rides at the Tour de Brisbane", Brisbane Chicks Who Ride Bikes Organiser Cathy Peel said. 
"We have over 3,700 local Brisbane women in our Facebook group aged between 25 and 75, many who ride together or with us through organised rides regularly. Many are looking for a healthy activity that can be done in a supportive, no-pressure, female only group."
"Given we work mainly with beginners, our rides focus on teaching skills for cycling on busy roads, building rider confidence, understanding basic riding etiquette and showing them Brisbane cycling infrastructure they may not be aware of". 
Lord Mayor Adrian Schrinner said Brisbane City Council was embarking on its biggest ever investment in active transport by delivering new green bridges that will create more cycling opportunities and better connect the city to the suburbs.
"Brisbane's subtropical outdoor lifestyle and year-round clear blue skies provides the perfect backdrop for cyclists and we're making our bike network even better by starting work on two new green bridges this year at Kangaroo Point and Breakfast Creek," Cr Schrinner said.
"So whether you're experiencing an exhilarating tour of some of our must-see destinations as part of the Tour de Brisbane, or going for a casual ride, Brisbane will be even better by bike."
"It is fantastic to see so many local riders and groups like Chicks Who Ride Bikes using our city bikeways to prepare for their Tour de Brisbane ride", says Event Manager Kevin Pready. 
"The Tour de Brisbane is a great once a year extension of this environment to the road, past some of our city's iconic landmarks". 
Starting and finishing at the Brisbane Showgrounds, the course covers multiple distances travelling through the city on fully closed and secured roads.
Notable points along the course include the Story Bridge, South East Busway, the Legacy Way Tunnel, and Mount Coot-Tha.
The event offers courses accessible for all abilities so riders can experience the thrill of an international calibre course in a safe environment.
"The Tour de Brisbane provides a stress-free environment for riders to practise these skills on fully closed roads, and for many women this will be the longest road ride they have completed" says Peel. 
This year the event will again run in support of The Common Good, an initiative of The Prince Charles  Hospital   Foundation.
Brisbane Cycling Festival and the Tour de Brisbane partnered with Splatt Lawyers are supported by the Queensland Government via Tourism and Events Queensland and Brisbane City Council via Brisbane Economic Development Agency.