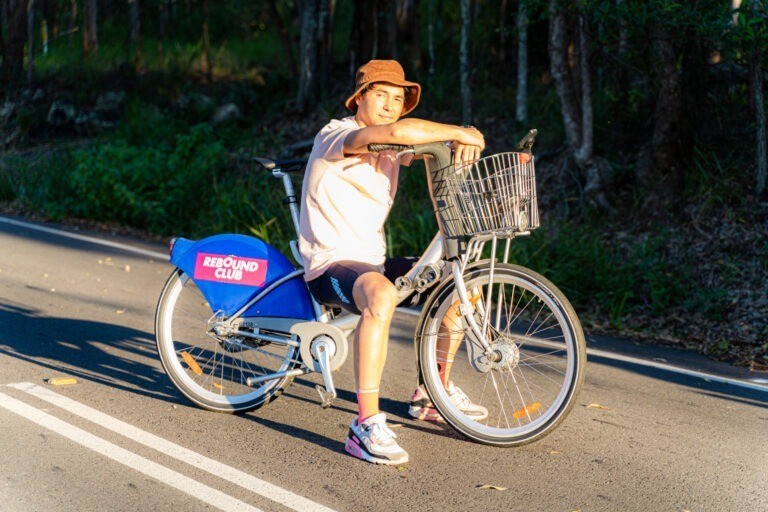 The Tour de Brisbane partnered with Splatt Lawyers rides into Brisbane City on Sunday 11 July, with one local Brisbane man taking the ride to new heights by completing the 110km bike ride on a CityCycle.
Kent Ohori, founder of the 'Rebound Club' is riding the Tour de Brisbane to promote the use of physical exercise to improve mental and physical health. In April 2021 when the original Tour de Brisbane was postponed Ohori completed his own 'Everesting Challenge', riding a CityCycle 46 continuous laps of the backside climb of Mount Coot-Tha over 23 hours to raise awareness and funds for Beyond Blue. During the challenge Ohori climbed 9000m over 207km. 
"The idea came about following my personal battle with poor mental health after the death of multiple family members in a short period of time", says Ohori. 
"I wanted to do something crazy like this to spread the word about my story and show people no matter how low life can get, there's always light at the end of the tunnel. I used exercise to find the light."
With less than three weeks to go until the 110km Tour de Brisbane ride rolls out, Ohori hopes to connect with local riders to encourage more people to get on the bike and talk about mental health. 
"Cycling gives me the opportunity to relieve any built up stress and anxiety from the day to day chaos that is life. Cycling has given me the opportunity to meet new friends and to be a part of a community full of like-minded people who love to exercise to live a healthy balanced life", said Ohori. 
Event organisers recognise the benefits of cycling on both physical and mental health, noting that Ohori's ride will be no small feat. 
"To ride this course on a 25kg CityCycle, around five times the average weight of most road bikes, takes strength and determination and is sure to create conversation among the riders" said Event Manager Kevin Pready.
"We look forward to watching Kent take on the Tour de Brisbane on Sunday 11 July", said Pready. 
Above all, Ohori aims to continue to promote the benefits of physical activity on mental health throughout the cycling community.
"I hope that I can inspire fellow competitors to challenge themselves in the future and to also give back to the community in their own unique way" Ohori said.